Americans aged 65 and older represent one of the fastest growing demographics in the country. In 2019 there were 54.1 million seniors in this age group (up from 39.6 million in 2009) with projected growth to 80.8 million by 2040.
Our senior population is not only growing, but they are remaining healthier and living longer with projected life expectancies rising significantly in future years.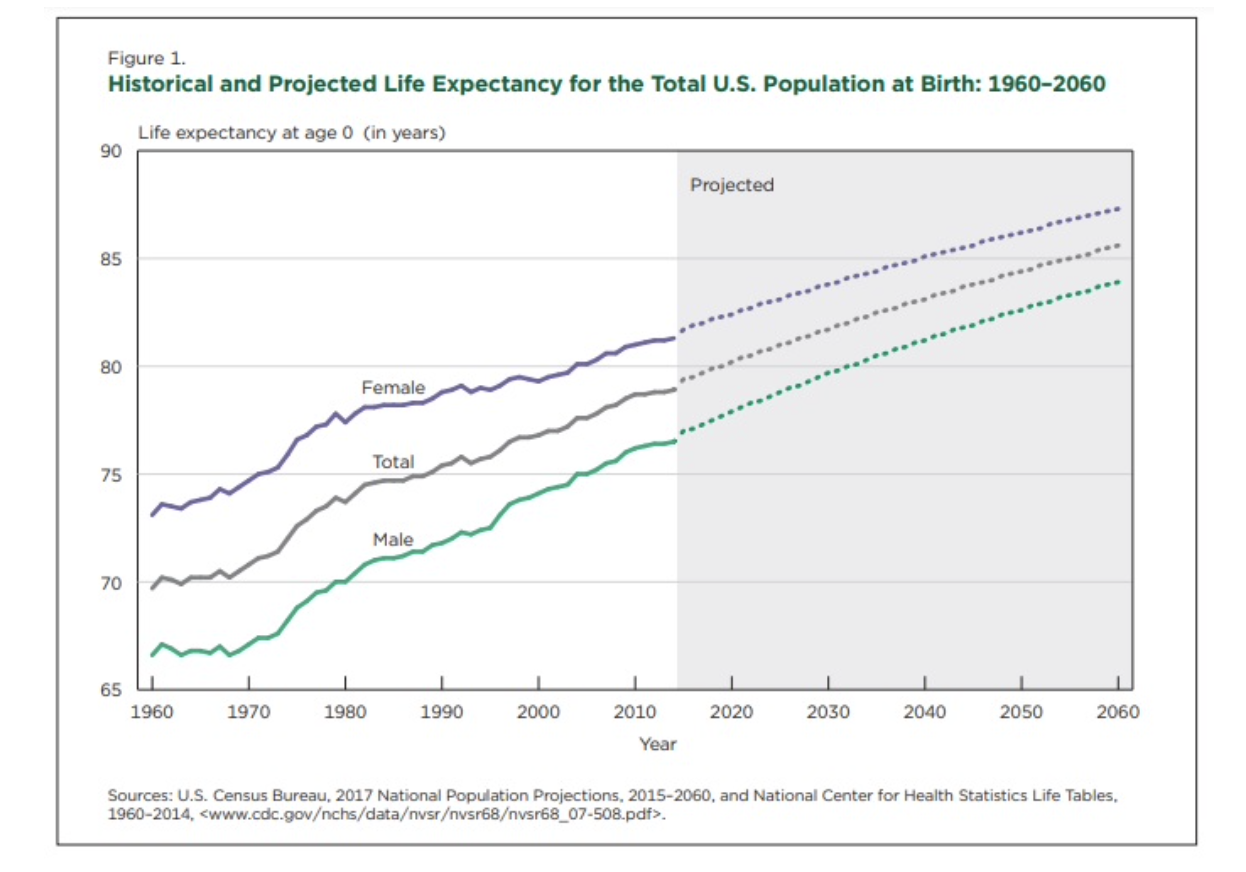 Since a growing number of our clients are attracted to these favorable growth trends, we would like to provide an overview of investment options in this asset class.
Types of Senior Housing
Senior housing includes a wide range of asset types that have varying characteristics and risk/reward profiles that should be evaluated and understood by investors. Asset types are categorized by their ability to support the changing needs to seniors as they age. Here are several of the most popular areas favored by our clients.
Age Restricted 55+ Independent Living Communities
These properties are very similar to traditional apartment communities except that they cater to older residents who desire to have fellow residents who are similar in age and generally healthy and not requiring significant health care services.
Residents can freely travel, provide their own meals, and engage in social activities outside of the community if desired. Most independent living communities provide additional services including on-site dining, housekeeping, laundry, hair salon, fitness classes, and a wide range of social activities.
Transportation services may also be available for shopping, off-site dining, or local sightseeing. One of the most attractive aspects of these types of communities is the opportunity to develop new friendships and engage in social activities with fellow residents.
Assisted Living
These facilities are designed to meet the needs of older residents who need additional assistance in maintaining a desirable lifestyle. As compared to Independent Living, added services might include:
Full meal service including meal delivery to rooms
Medication delivery assistance including reminders, sourcing prescriptions, monitoring insurance plans, and visits by medical practitioners as needed
Assistance with personal grooming, shopping, and financial management
Memory Care
Many assisted living facilities also offer areas that are dedicated to seniors with impaired memory. There are also standalone memory care facilities. Trained staff is provided to ensure that residents are receiving meals, medication, taking part in activities, and staying engaged with other residents.
Since people with advanced forms of dementia tend to wander, memory care areas have alarmed doors and passcodes to access elevators and other enclosed spaces. Residents may also wear tracking bracelets so they can enjoy added freedom but still allow the staff to track their location.
Skilled Nursing
These facilities have trained and licensed nursing staff available 7/24 to care for residents who need ongoing medical care and supervision. Residents can include younger adults who are rehabilitating from accidents, surgery, or who have other health issues. Residents are provided with therapeutic services to overcome physical, speech, and occupational issues. Residents may stay for shorter periods until they convalesce to a point where they no longer need a high level of care.
Continuing Care Retirement Communities (CCRCs)
CCRCs are larger communities that offer a full range of senior living options including independent living, assisted living, memory care, and skilled nursing. Seniors typically move into a CCRC to ensure that they have a stable location to call home for the rest of their life. There are typically substantial entry fees in additional to ongoing monthly fees.
CCRCs are highly amenitized and may include community services such as a golf course, swimming pool, art and music studio, library fitness center, tennis court, and walking trails. Commercial and health services may include barber and beauty salon, dentist, onsite pharmacy, banking services, retail shops and restaurants.
How to Invest in Senior Housing
For investors who are completing 1031 exchanges, senior housing properties structured as a Delaware Statutory Trust (DST) may be a good option to explore. Senior housing DSTs have been offered for 55+ independent living communities, and for assisted living and memory care properties.
Investors who wish to invest with cash or retirement funds might consider investing in a real estate investment trust (REIT) that focuses on senior housing. Investing in a senior housing REIT can provide investors with greater diversification since multiple properties will typically be owned by the REIT.
Risk Factors
Senior housing is a labor intense business and requires specialized management to hire, train, and supervise skilled staff and adhere to state and federal regulations. Investors should take care when evaluating investment options to do their homework on the management companies who will be overseeing the property. As with other types of investments, firms having extensive track records of solid performance should be preferred over firms with limited history.
Next Steps
To learn more about senior housing market trends and investment strategies for allocating both cash and 1031 exchange funds, please schedule a meeting with our professionals at First Guardian Group at 866 398-1031 or info@fgg1031.com.
1https://acl.gov/aging-and-disability-in-america/data-and-research/projected-future-growth-older-population